Acumatica Distribution Product Tour
Acumatica's specialized distribution ERP software helps you automate processes and reduce errors in purchasing, order fulfillment, inventory tracking, and customer support.
Acumatica Distribution Edition Key Benefits
What is an ERP system?
Simply put, your Cloud ERP Software is customizable which connects the sales, operations and financial aspects of your business. Often your ERP system will replace all of the individual software systems you used previously, but they can also integrate with existing systems.
What's the value in this?
Imagine the impact your business would see if your sales process, order tracking, customer information, inventory, project management, accounting and every other software you used were connected to each other. For the first time ever you can begin streamlining your processes and your business using data from every single department.
Compare ERP systems with this free checklist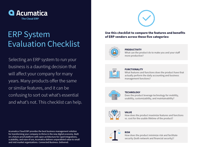 Selecting an ERP distribution management and accounting system to run your business is a decision that will affect your company for many years. Many products offer the same or similar features, and it can be confusing to sort out what's important and what's not. This tool can help
Ready to take the next step?
If you would like more information, schedule a meeting below
Book a Meeting